Back to Portfolio Landing Page
Forever Live! Conference Site
Forever Live! began in 2015 as a conference to bring Forever's users and ambassadors together for three days to inspire and excite them. Over the years the focus of the event has shifted more towards educating and exciting ambassadors, but it remains a great way for the Forever team to talk to and learn from customers.
Goals #
Bring a more playful, "scrapbooky" element to Forever's branding
Provide clear information and encourage ticket purchases
Spend less time each year on the website to better utilize design and development resources
My Role #
For three years I was the sole designer and developer on this project. I worked with the event managers to understand their needs and designed, built, and deployed the site on my own. It was a fantastic learning experience. My design and technical skills have grown tremendously as a result, as have the company's design guidelines and sensibilities.
2015 - "The Picture Party of the Year" #
This was the inaugural Forever Live! – a three-day conference conceived less than a year in advance and not included in our development team's priorities. As the only designer on the marketing team at the time, I developed the branding then built and deployed the website from scratch as a Rails app. I also implemented custom tag tracking on the site to ensure that the tracking offered by our ticketing provider would work across the site. In addition to the website, I also designed all printed materials, including signage, and managed the printing and delivery of those materials to the conference venue.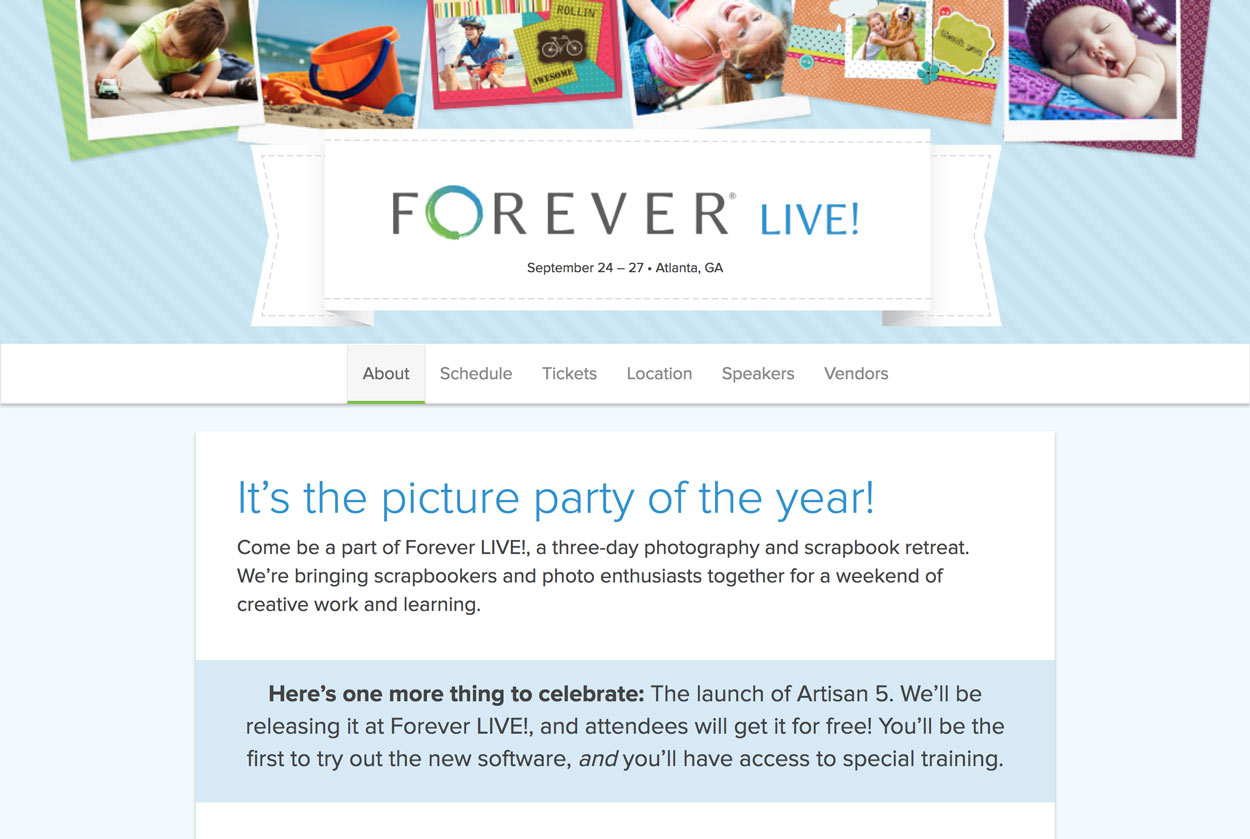 2016 – "Turn it up!" #
By this point there was a senior designer on the marketing team who helped develop the logo and branding guidelines. Now that there was already a site up, I set up a staging environment to make it easier to share progress with stakeholders and maintain better development practices. I focused more on cleaning up and improving code and style guide implementation, tweaking website structure and content, and looking for ways to use patterns and make it faster to develop in coming years.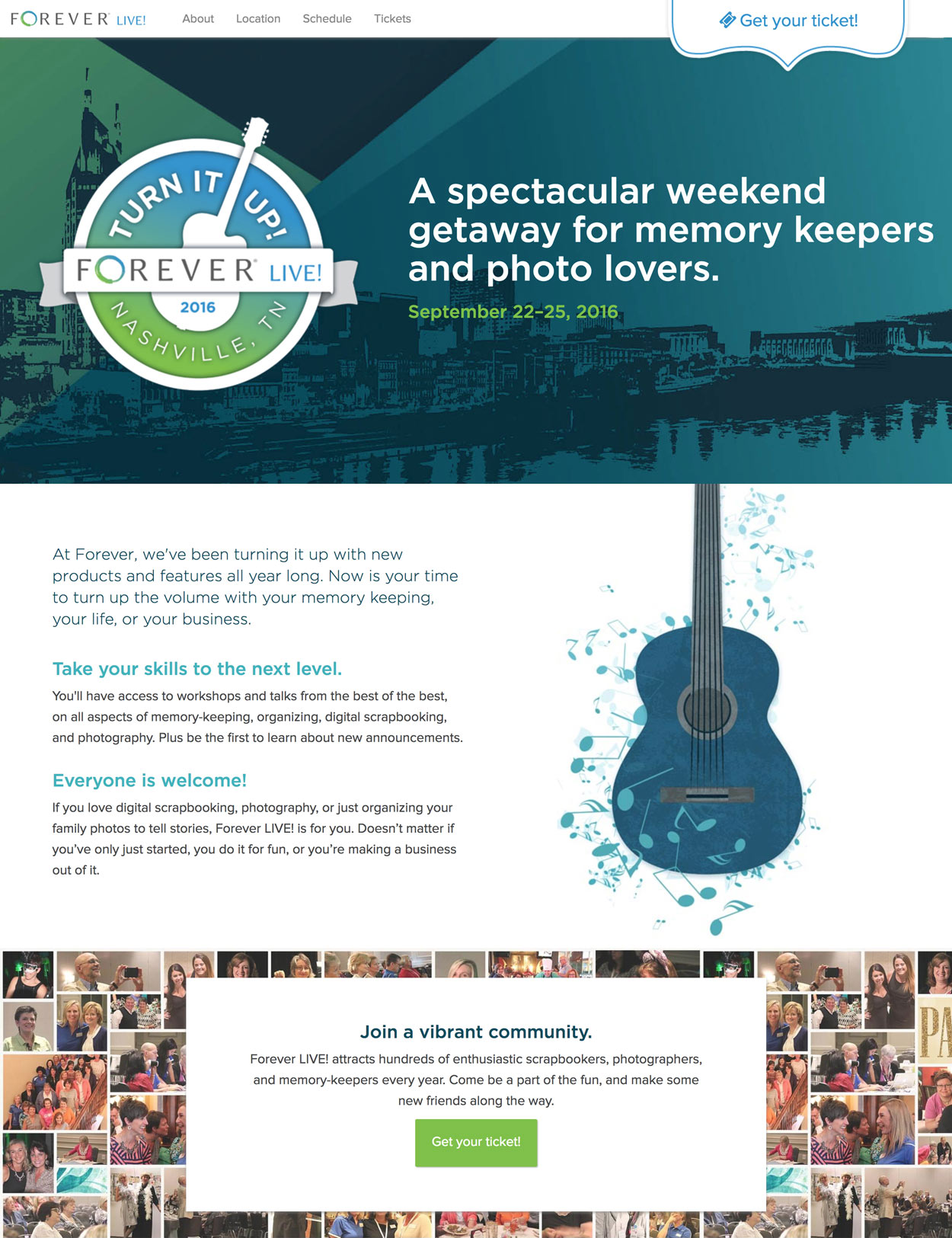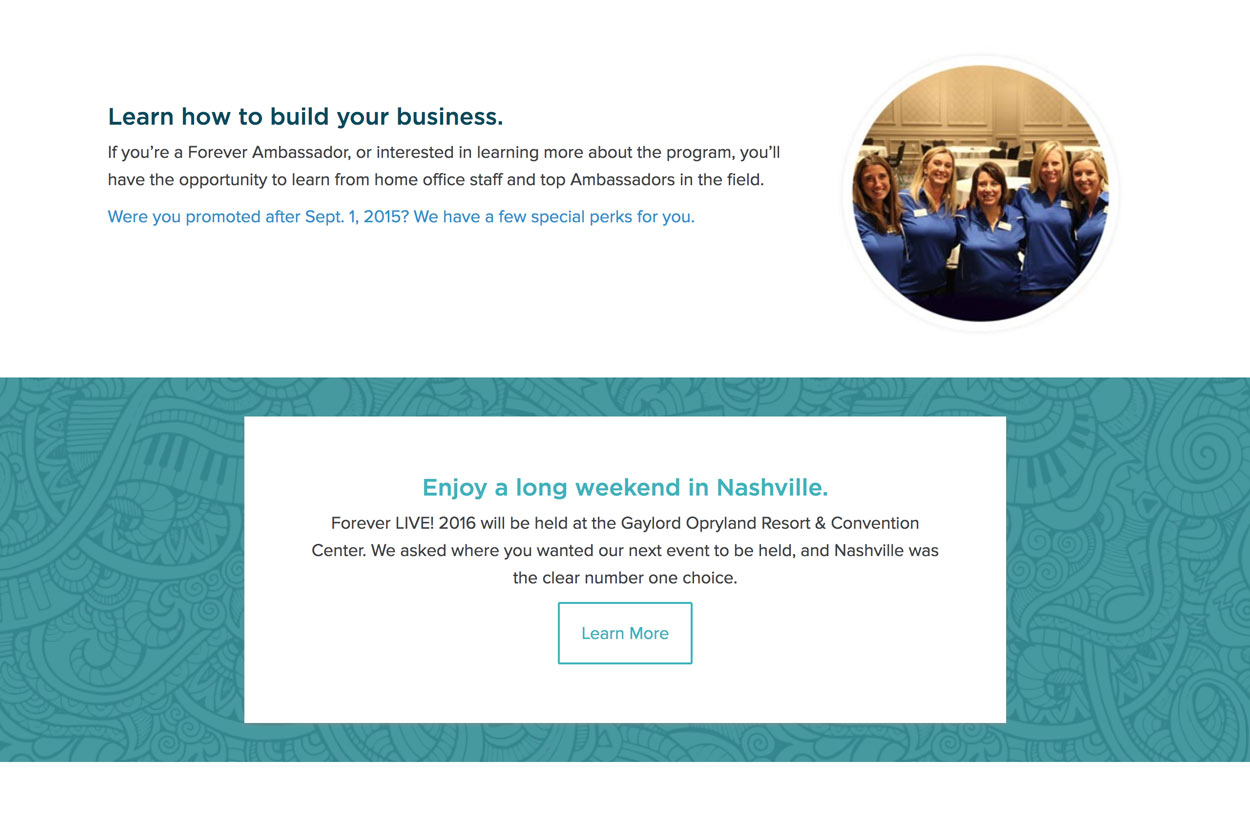 2017 - "Uniquely Remarkable" #
I received more established branding from marketing to start with and focused on cleaning up the codebase and working with discrete, flexible components that could be easily adjusted each year to create a new look with little effort. A print style sheet was also added for the schedule because feedback from attendees in the previous year said it was frustrating not being able to easily print a reasonable version of the schedule in advance.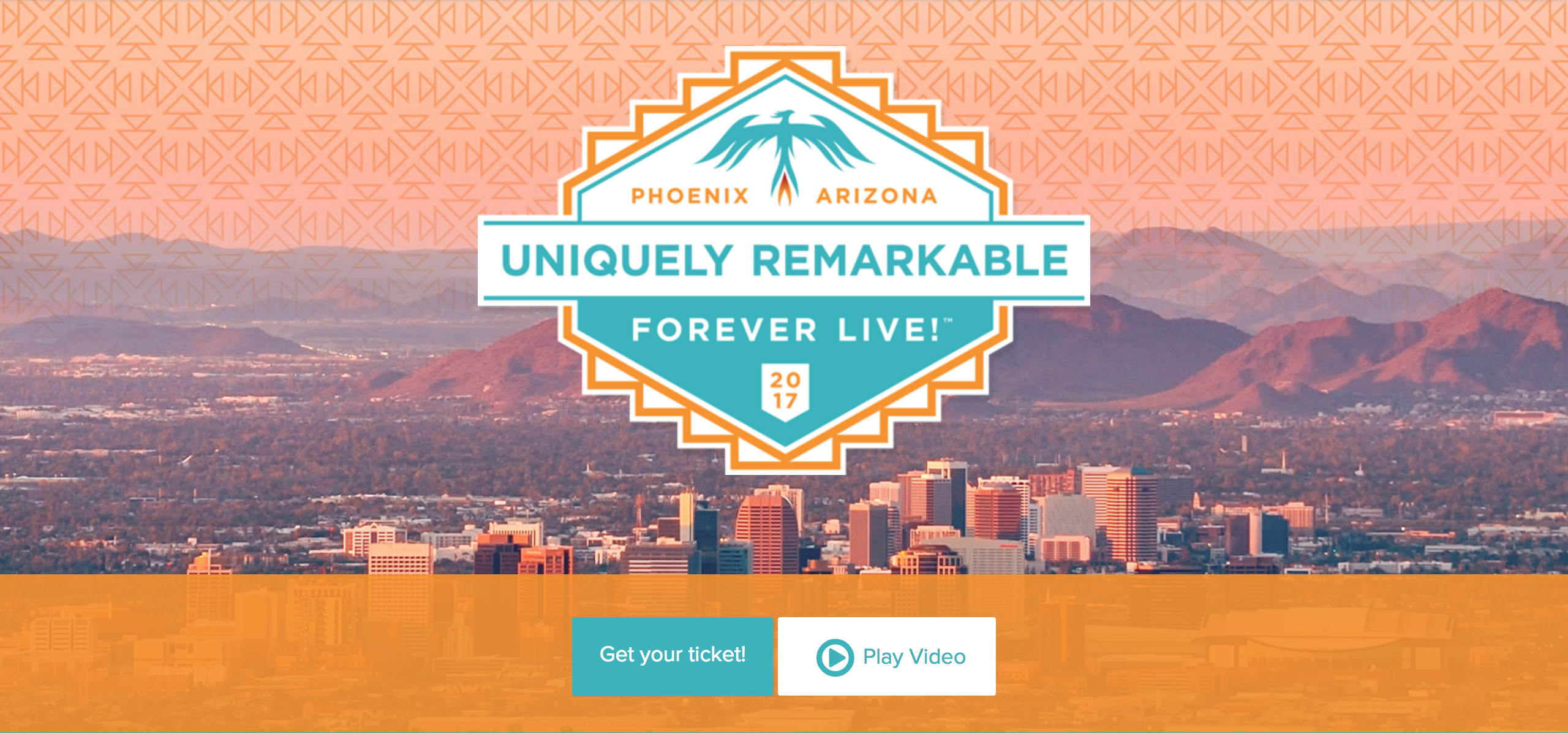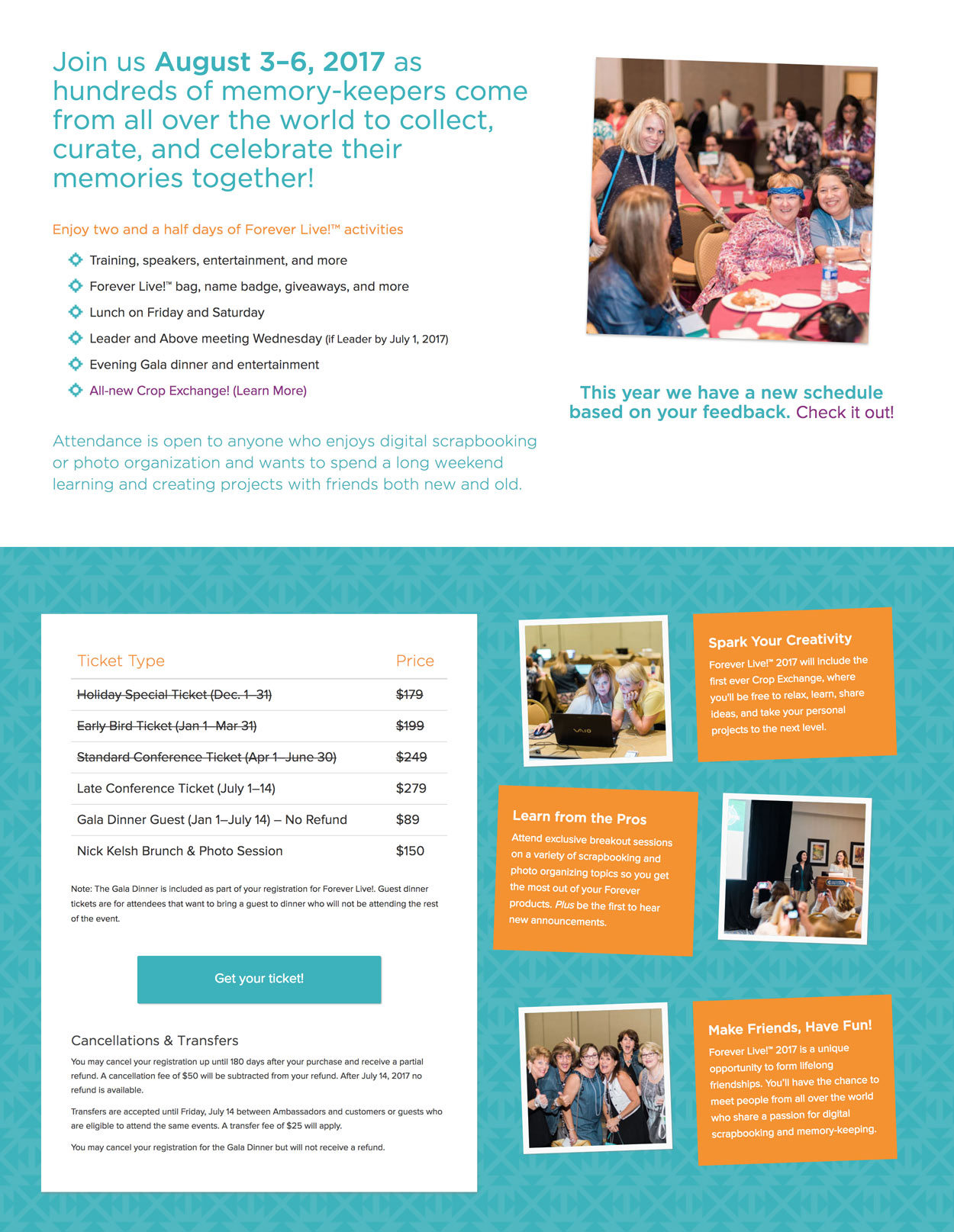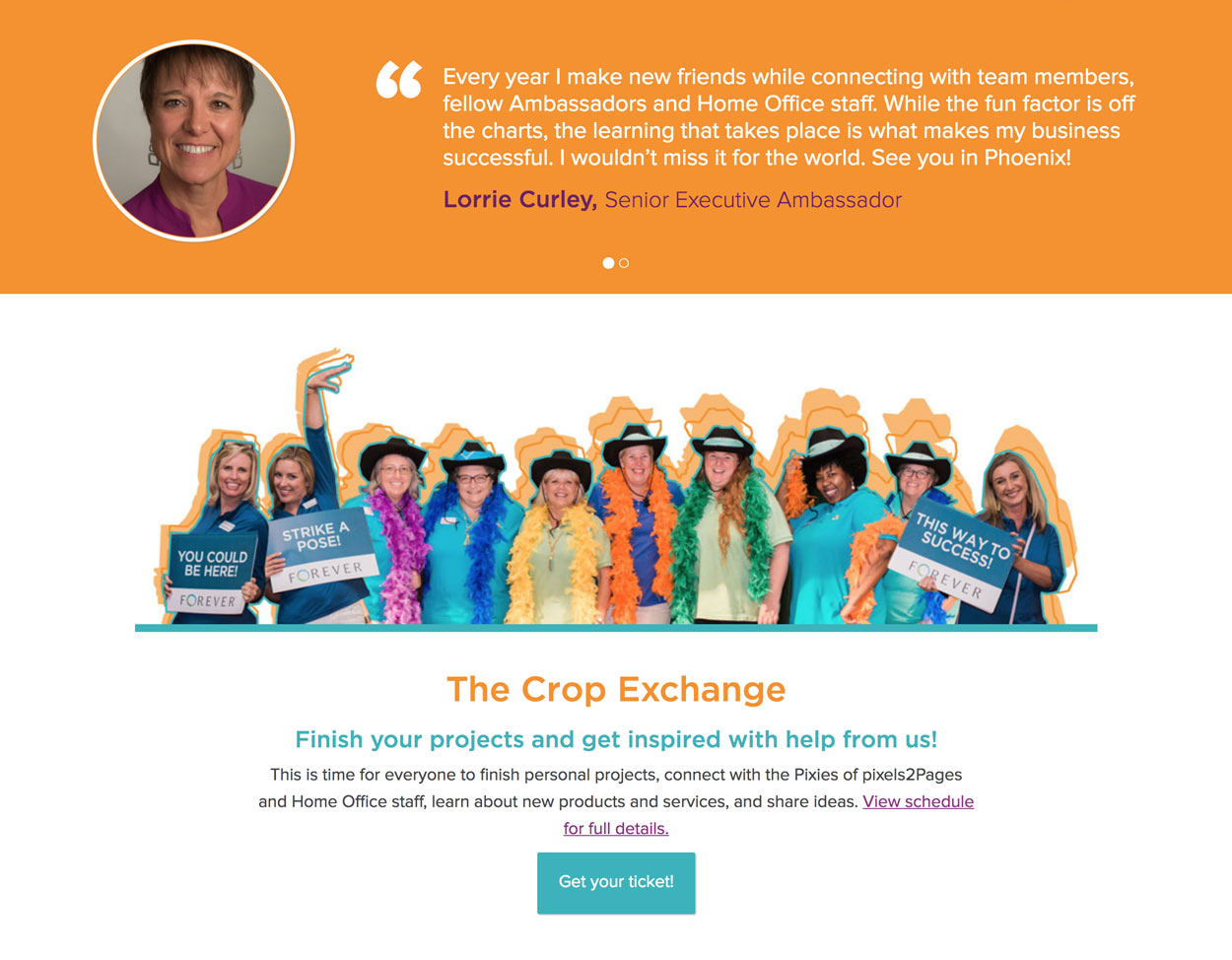 2018 - "We Are Family" #
For our fourth Forever Live! I was able to hand off the project to a junior designer, helping her learn basics of Rails and deploying a website. It was a very satisfying way to wrap up my time with the site.
Results #
Forever Live! has grown in size each each year. The website also looks better and better, both in terms of visuals and code quality, but requires less time to develop.
---